Be Ready, With Surge Protection
A power surge can be caused by weather events, wildlife and vegetation interference, automobile accidents, equipment failures, and other miscellaneous events. Be ready with Tri-County Electric Cooperatives comprehensive surge protection kit. For a one time payment of $188.00  you can have peace of mind installed in your home.
When you sign up a TCEC service technician will install a surge suppression device on your meter. The kit also includes individual protectors for you to install on your electronic devices.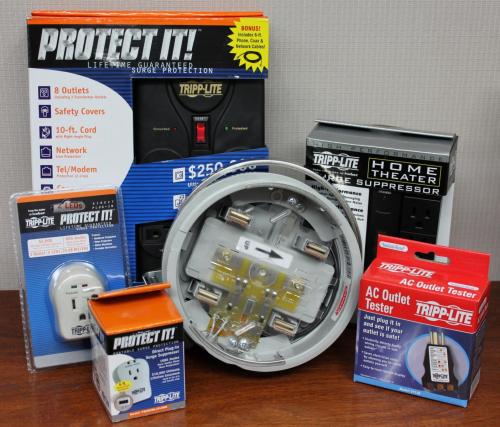 Our surge protection kit protects:
Washers

Dryers

Dishwashers

Ceiling Fans

Ovens/Ranges

VCR Players

DVD Players

Fax Machines and Modems

Video Game Consoles

Garage Door Openers

AC systems

TV's

Computers

Additional Details Warranties under this program are not provided by the Cooperative but are given by the manufacturer of the surge protection devices. The manufacturer provides a lifetime product replacement warranty for damages in workmanship or materials for all plug-in products. If a plug-in surge protection device is damaged by a power surge the manufacturer will repair or replace the product. The meter socket adapter has a 15 year from date of manufacture warranty.
Cooperative Members will have a lifetime connected equipment warranty that will reimburse for repair or replacement cost of the properly connected equipment or appliances damaged by power surges. This warranty is also provided by the manufacturer. Members requesting the Home Surge Protection Program will sign a contract which identifies the agreement between the Cooperative and the Member.