Franklin Delano Roosevelt was inaugurated March 20, 1933 as America was in the middle of the Great Depression. On April 8, 1935, Congress passed the Emergency Relief Appropriation Act conferring sweeping power upon the President to battle the forces of the Great Depression. The 1935 Census showed that 90 percent of rural America's farms, ranches and homes were without electricity.
May 11, 1935, by Executive Order, President Roosevelt created the Rural Electrification Administration, also known as "REA." Congress passed the Norris Rayburn Bill which provided funding and guiding details of the "REA" on May 20, 1935.
In 1939, Florida's legislature passed the Rural Electrification Cooperative Law. The statues cover the operation of Rural Electric Cooperatives in Florida.
July 24, 1940, a group of citizens submitted the Tri-County Electric Cooperative, Inc. Articles of Incorporation to the Secretary of the State in order to proceed with a program of rural electrification for Madison, Taylor, and Jefferson counties.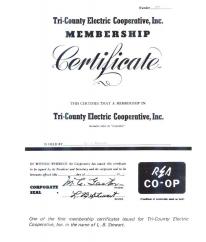 "The Founding Fathers"
J.J. Cotton — Shady Grove
L.B. Stewart — Madison
M.C. Gaston — Madison
J.B. Sale — Lovett
James R. Laney, Sr. — Greenville
R.L. Henderson — Shady Grove
J. E. Hagan — Greenville
James Bailey — Shady Grove
I.Z. Hughey — Madison
The first Tri-County Electric Cooperative meeting was held July 30, 1940, at 8:30 p.m. at the Madison County Courthouse. During this first meeting, the officers were elected, official seal approved, check signing approved, the by-laws were adopted and the insurance matters at hand were handled. J.J. Cotton was elected President of the Board of Trustees, M.C. Gaston was elected Vice President and L.B. Stewart was elected Secretary and Treasurer.
It was required that 100 citizens pay the membership fee and "sign up" to validate the Articles of Incorporation. The first try was unsuccessful as only 75 members were recruited. After two weeks of intense arm twisting, 100 members were recruited.
Mr. Thomas C. Morrison was elected by the Board of Trustees as the General Manager. At a salary of $125 per month, he began his duties Sept. 1, 1940, and the construction of power lines began.
The Co-op made its way through the rural counties with one three-phase feeder line from a substation at the Georgia line. Right-of-way was eventually cleared and more lines were added. As the power lines spread throughout the Tri-County service territory, more employees were needed as well as more office space. In 1950, the Board of Trustees purchased the St. John's Seminary of Learning building on Duval St. in Madison, Fla., where the Co-op's headquarters would be located for nearly 40 years.
Then, in the late 1980s, Tri-County moved 40 years of records, furniture and material to a new office built next to the warehouse on West US 90. The headquarters still remains at this location today with four district offices throughout Madison, Taylor and Jefferson counties.
1948

Members — 1,877

Average Bill — $6.13

Average Usage — 125 kwh

Employees — 25

Total Utility Plant — $791,000

2014

Members — 12,398

Average Bill — $205.46

Average Usage — 1,669 kwh

Employees — 64

Total Utility Plant — $90,735,224
Over the years, the Cooperative has made many advancements. Many folks have made great contributions to insure these advancements were made without sacrificing the Co-op's prime purpose: to provide quality service at the lowest possible price.
Past Tri-County Electric Board of Trustees

     

W.I. McCullogh, 1940–1946

C.P. Andrews, 1940–1945

O.W. Jones, 1941–1947

A.C. Marshall, 1942

C.H. Brannen, 1943

J.P. Lacy, 1943

A.B. Zipperer, 1945

Carl Joiner, 1945–1947

T.S. Studstill, 1946–1977

D.W. Chason, 1946

J.R. Collins, 1946

G.C. Cone, 1946

J.X. Towles, 1946–1947

F.C. Bird, 1946–1947

Dalton Mercer, 1947–1976

T.L. Walker, 1947

Vernon E. McHargue, 1947–1949

M.V. Taylor, 1947–1948

A.I. Sasser, 1947

J.R. Faglie, 1947

Parks E. Baker, 1948–1955

C.A. Fulford, 1949–1990

Lewis Hamilton, 1948

     

 

Evans Waldrep, 1949–1970

Pete Gibson, 1949–1957

W.G. Clements, 1950–1979

K.W. Walfrep, 1953–1970

Ralph Williams, 1955–1958; 1961–1985

Amos Kinsey, 1956

O.A. Simmons, 1957–1975

W.H. Russell, 1957–1990

Norman Newman,1971–1992

Ramon Cooey, 1975–1985

Mack Sessions, 1975–1993

Philip Howell, 1976

Carson Cherry, 1976–1991

Evans Brown, 1977–2004

Sinclair Miller, 1979–2004

Ray Strickland, 1985–1989

James Johnson, 1989–1994

Archie Davis, 1985–2006

Delma Beck, 1991–2006

Joe P. Burns, 1990–2006

Edd Sadler, 2004–2008

Clara Nell Strickland Holman, 1994-2012

Bobby Harper, 2006–2015

Neal Brown, 1992–2016

Malcolm Page, 1993–2017

Gary Fulford, 1990–2019

Albert Thomas, Jr., 2004–2020
Present Tri-County Electric Board of Trustees
Elmer Coker, 2006–Present
Catherine Bethea, 2008–Present
Junior Smith, 2006–Present
Bobby Dodd, 2012–Present
George Webb, 2015-Present
Donnie Waldrep, 2016-Present
Johnny Edwards, 2017-Present
Ann Herring, 2019-Present
Benjamin Bishop, 2020-Present
In 2009, technology advancements took place that have had a positive effect on the membership. One of those advancements being Automated Metering Infrastructure also called "AMI." These new meters made it possible to read the meters over the power line for billing, acquire voltage and usage data, record power outages, turn on and off electric accounts. The meters also gave Tri-County the ability to read meters on demand to answer member concerns and questions and made it easy to recognize power diversion and theft.
Another advancement was the Geographical Information System. This system was the first full inventory of our complete system in the history of the Co-op. It provides geographical locations of poles, devices, lines and interfaces with Partner Mapping System to provide field personnel with accurate meter locations and relevant service information, and replaced the old grid location paper maps.
Tri-County also began using an Outage Management System. Based on preliminary data, the system can predict which device has failed and how many members "may" be affected. Field personnel are assigned to each outage helping dispatch to be aware of each service crew's location. This system is also able to track outage data for reliability purposes.
Most recently the Cooperative added an exciting option for our members, Pre-Pay meters. Pre-Pay is a pay as you go system that allows members the freedom of paying when they can for the power they plan to use. Some benefits of this program include, no reconnect fee if cut off, customized pay schedule and notifications of low balances.
To help keep cost down for members Tri-County Electric Cooperative offers Residential Energy Audits which are available to members at no cost. This service is designed to assist our members in improving their homes so that they become more energy efficient. There are many factors that may trigger high energy use, the most common of which is extreme temperatures. If common explanations for high energy consumption still leave the member perplexed, it is recommend that that the member allow Tri-County to come out and perform an energy audit on the residence.
Tri-County Electric Cooperative has come a long way since 1933 and as we approach our 75th year of service, one thing remains the same; our commitment to serving our members. To power communities and empower members to improve the quality of their lives, continues to be our purpose and that purpose will power our movement into the next 75 years of service.