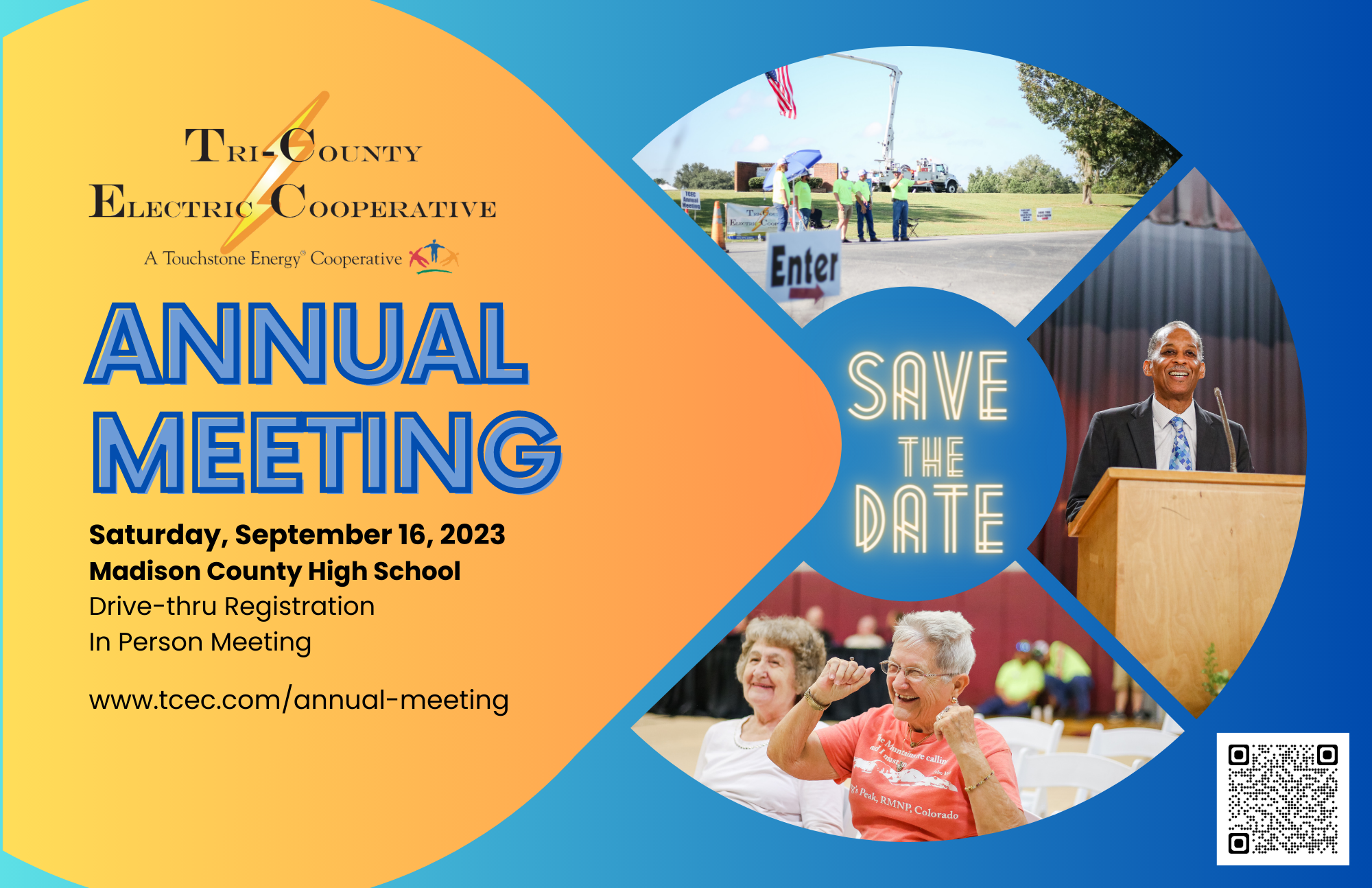 Drive-thru Registration: 8:00 AM - 9:30 AM
Information booths will be set up, and employees on site to assist members with questions regarding energy efficiency, solar, Conexon Connect Internet Service, and more. Enjoy a few rounds of Bingo before the Business Meeting begins! 
Quick Registration Cards have been mailed. Bring yours to register at Annual Meeting and receive a $25 bill credit, a free gift, and a chance at 1 of 50 door prizes. To request a replacement card, call 850.973.2285 to speak with a Member Service Representative. Replacement cards must be picked up by Friday. 
Business Meeting: 10:00 AM
In person business meeting will be held in the MCHS gymnasium. 
Additional chances to win a door prize for those attending the meeting in person. 
Hear from your TCEC CEO, Julius Hackett and Board President Bobby Dodd for an update on YOUR electric cooperative. 
Watch live online here or on our Facebook page. 
Location: Madison County High School - 2649 E US HWY 90, Madison, FL 32340
---
Watch the 2023 Annual Meeting Live:  
PRIZE WINNERS: If you won a prize at the meeting but were not in attendance, please make arrangements to pick up your prize from the Madison HQ office by Friday, September 20th.
If you cannot pick up your prize by Friday, please contact us at 850.973.2285.
Unclaimed prizes will be redrawn for next week.
| | |
| --- | --- |
| Truck  | Thelma Buchanan  |
| Sony Playstation 5 | Gene Browning  |
| Vizio 70' Smart TV | Lura Borgert |
| Anker Smart Lock  | Jean Jackson |
| CAT Rolling Utility Seat | Tela Rickerd |
| Kodak Wifi Photo Frame | Amanda Johnson |
| Lasko Tower Fan | 49237 |
| Westinghouse Solar Security Light | 49142 |
| 4pk Apple Air Tags | Albert Thomas  |
| Hepa Air Purifier | Arthur Burkett |
| Multi Device Charging Tower | John T Day |
| $50 Gift Card - Kathys Krab Shack  | Lorene Howard |
| Drone  | John Salls |
| Honeywell Smart Thermostat | 49287 |
| Ninja Speedi Cooker & Air Fryer | Chad Shipley |
| Roku Streaming Stick | 49266 |
| Full Moon Farms Honey Bee Bag | Robert Wicker |
| All In one Charger  | John Cone |
| Stanley Fat Max Charging System | 49140 |
| JBL Portable Bluetooth Speaker | KC Wells |
| Dirt Devil Hand Vac | Paul Burnett |
| Echo Dot | Harvery Raulerson |
| Columbia Cooler | Kevin Turner |
| Digital Atomic Wall Clock | 49210 |
| Weber Charcoal Grill  | Mike Williams  |
| Dash Cam  | Lance McCain |
| Bissell Turbo Vacuum  | 49177 |
| Ring Video Door Bell with Echo  | Maude Hodge |
| Bogg Bag | 49186 |
| Smart Heater | Beverly Moore  |
| Yeti 36oz Rambler | James Johnson |
| Ion Bluetooth Party Splash Speaker  | Paul Webb |
| $50 Gift Card - Deals Oyster House | Fred Rolland  |
| Tech Lamp w/wireless charging | Corene Bland  |
| Ninja Blender | 49220 |
| Iphone wireless gaming Device | Deborah Simmons  |
| Bahama Bay Folding Wagon | John Stancil |
| JBL Bluetooth Ear Buds | Gail Primm |
| Nebo Rechargeable Headlamp | Casey Rodriguez |
| Midland Emergency Weather Radio | Leroy Mobley |
| Stealth Trail Camera Kit | Heath Driggers |
| Nebo Rechargeable Flashlight | Lacey Horton |
| Grace & Cloth Home Fragrance Gift Bag | 49209 |
| Midland Two Way Radios | Lance Browning |
| Pura Smart Fragrance Diffuser | Wayne Walker |
| Dewalt Wet/Dry Vac | Joyce White |
| Vizio Soundbar | Ashley Martin |
| Food Saver | 49185 |
| Garmin Smart Scale | Joyce Tatum |
| Portable Wireless Speaker with light | 49249 |
| XL Gravity Chair  | Archie Davis  |
| Deals Gift Card | 49183 |