Message from CEO Julius Hackett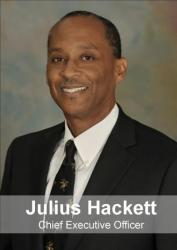 Tri-County Electric Cooperative (TCEC) is here for you, and given the challenging times we've all experienced the last year, I'd like to share some information and ideas to help you save and money.
Summer is a great time to conduct an energy audit of your home and identify ways to boost energy efficiency. Understanding how your home uses energy can help you determine the best ways to modify energy use and keep more money in your wallet.
An energy audit is one of the best ways to determine how energy efficient your home is––an audit can also identify areas for potential energy savings. Residential energy audits are available to our members at no cost. This service is designed to assist our members in improving their homes so that they become more energy efficient.
There are many factors that may trigger high energy use, the most often of which is extreme temperatures. If common explanations for high energy consumption still leave you perplexed, we recommend you allow TCEC to perform an energy audit at your home. Call 800-999-2285 to schedule an Energy Audit today!
If you'd prefer to do an energy audit yourself, try ENERGY STAR®'s online audit. Visit www.energystar.gov, then enter "home energy yardstick" in the search box to get started. But keep in mind, an online audit won't be as thorough as an in-home audit.

Putting power in your hands
Prepaid metering is intended to aid in budgeting your monthly energy costs. TCEC members can pay for electricity before it is used, then use the electricity until the credit expires. During the time period you've paid for, you will receive regular feedback on your balance. Daily account notifications via text or email will keep you in touch with your usage and available balance. By downloading the TCEC FL mobile app, members can review usage for a certain time period, make payments, and even report an outage.
Industry studies show that consumers who participate in prepaid metering plans use up to 10% less electricity. Lastly, if you have recently purchased a new ENERGY STAR®-rated appliance or product, make sure you are taking advantage of any special offers or rebates that are available.
As your trusted energy advisor, we're here to help. If you have questions about your bill or additional ways to save energy, please let us know. We're only one click or phone call away. Check out the Summer Energy Saving Tips graphic on page 8 for quick changes you can day to be more energy efficient.